My dark fantasy novel "Death and the Maiden" takes its title from Schubert's art song "Der Tod und das Mädchen".
Table of Contents
The Art Song
In this song, Death comes to take a young girl, and she begs him to go and find someone else to take with him. "I am still young," she says, "please, don't touch me." But Death answers that he comes as a friend and tells her she has nothing to fear. He promises her she'll sleep softly in his arms."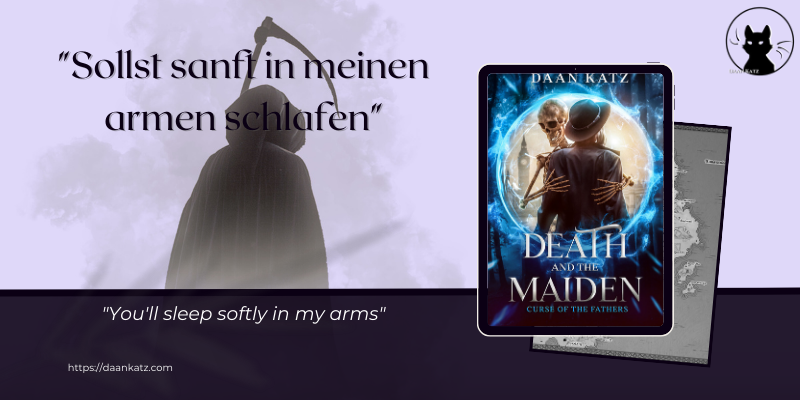 It's a beautiful song which I—a tenor—unfortunately cannot sing in its original setting, but that doesn't stop me from enjoying the musical perfection in this bite-sized drama. That's why I chose it as one of the leading themes of my second novel.
The main character in "Death and the Maiden" is Alysia Hamilton, a successful London-based psychotherapist, who is whisked away from her comfortable life and plunged into a strange world, where people believe in magic and technology seems almost non-existent.
So far, that doesn't sound too different from other fantasy novels, right? However, "Death and the Maiden" is anything but a traditional fantasy tale. Let's explore what sets this novel apart.
Dark Fantasy in Unconventional Setting
Fer, the world to which Alysia has been transported, is no mediaeval-inspired world. Instead, at first glance, its cultural and technological progress appears to be on par with that of the 19th century. However, within hours of her arrival on Fer, Alysia already notices some disconcerting discrepancies.
And there's more to come. Because Alysia soon learns that Fer is not the only world in its universe. The All, as this universe is called, consists of seven interconnected worlds, each with their own different flavours and levels of industrialisation and sophistication. This makes the All an interesting universe to explore, and Alysia gets to travel to not one, but two other worlds: Thorf, and Sor.
Yet, despite the intricate worldbuilding, the rich details of these fascinating worlds are dripped into the story little by little, allowing the reader to gradually discover more about Alysia's frequently changing surroundings as she journeys from one place to another.
Curious to find out more?
Download my "Guide to Death and the Maiden"
Complex and Relatable Characters
Alysia is not your ordinary protagonist. Whereas in the fantasy genre the young boy (often white and unassuming) is the prototypical main character, Alysia is none of these. She is of mixed heritage, a mother of two, grandmother of three, married to a famous musician, and herself a successful psychotherapist.
Yet, the day after her arrival on Fer, she discovers that she has somehow become young again—and she doesn't like that at all. She was happy with her life, and did not miss being young, insecure, and vulnerable. She quickly spirals into a deep depression, where all she wants is to find her way back home and become her ordinary self again.
On Fer, Alysia is staying with Ken, a young scientist, and his husband Garth, who is also a scientist. Although Alysia and Ken clash regularly, she almost immediately feels a deep kinship with Garth, who helps and comforts her during many of her most difficult moments.
Garth suffers from a hereditary health condition that impairs his mobility drastically. Some days he can walk, but most days, he needs to use his wheelchair, which is basically an armchair on wheels. Comfortable, but it also makes him dependent on the assistance of others, usually his husband.
As the only son of a minor noble, Ken has been raised to always keep up appearances. He doesn't express his emotions easily and gets upset when people use unbecoming language—something Alysia in her depressed state frequently does. Despite his annoyance with Alysia's behaviour, he cares deeply about her wellbeing, and would do anything to help her find happiness again.
In his relationship with Garth, Ken can sometimes be a bit overbearing, but Garth doesn't really mind. He understands that his husband's overprotective behaviour is just one of the ways he expresses his love.
Dark Fantasy with Resonating Themes
As can be expected in a novel featuring a psychologist, mental health is one of the themes that drive the story. So are neurodiversity and disability.
Chapter one opens with Alysia at work, in the London hospital where she works as a psychotherapist. We see how she worries about one client in particular, and witness the dramatic turn of events when she goes home that evening.
In chapter two, Alysia inexplicably finds herself in a strange place, desperately trying not to panic as she starts to realise what might have happened. The attentive reader will recognise the first signs of depression there. A depression that worsens with every new day and turns her into a bratty, angry shadow of the woman she used to be. Despite being a therapist, Alysia never realises that she actually suffers from a major depressive disorder, which only adds to her feelings of guilt and exacerbates her condition.
Another thing Alysia does not realise is that she likely qualifies for a diagnosis of Autism Spectrum Disorder. Like so many autistic women, she seems perfectly "normal"—whatever that might be—and has never questioned her apparent normalcy. This changes, however, during the course of the story when a series of events forces her to reevaluate her status quo.
Garth's disability is another important theme in the story. We see how he remains positive in the face of adversity, and refuses to become a victim of fate. He may not have chosen his disability, but he still has the power to choose happiness despite the shitty hand life has dealt him. Even when his life hangs in the balance, he still maintains a positive attitude.
Twists and Turns: The Art of Surprise
Despite its heavy focus on character, Death and the Maiden, is not a plotless story. And when you love unexpected plot twists, this story won't disappoint you. Alysia's story is one full of surprises, twists and turns that defy not just her own, but also the reader's expectations.
★★★★★
Portal fantasy at its finest with a most unusual twist
When Alysia pops up in a different world, in an entirely new universe, is faced with magic, pre-modern living conditions and a colorful cast of characters, her stress-induced aggression and profanity was so, so believable. It made her endearing and definitely connected me to her. Following in her footsteps on shock after shock with each new revelation was an absolute treat and Ill admit I never even saw half the twists coming.
The Book Dragon's Hoard by A.V.
Reviewed in the United States on August 7, 2023
Verified Purchase
Seamless Interconnected Worlds
As I mentioned earlier in this post, the All consists of seven worlds, each with their own distinct flavours, and Alysia gets to visit three of them in total: Fer, Thorf, and Sor.
As her quest takes her from one world to another, and from one place to another, we get to see the intricacies of these worlds through Alysia's eyes. The pre-industrial atmosphere of Fer and the varied humanoid and animal species inhabiting this world, the pastoral quality of Thorf with its imposing inhabitants, and Sor with its advanced technology but often alien customs.
On Sor, Alysia and her new friends meet with several people the reader may already know from Night's Reign. Two of these are wheelchair dependent Bel, and autistic Niels. Others are Niko and Lori, both of whom are suffering because of what happened in Night's Reign.
So, if you plan on reading "Death and the Maiden" and haven't read "Night's Reign" yet, I highly recommend you read "Night's Reign" first. Though not strictly necessary—"Death and the Maiden" works just fine as a stand-alone—this will give you a much richer experience.
My Author Voice and Vision
It is no coincidence that "Death and the Maiden" features disabled characters and doesn't shy away from dealing with mental health issues.
As a disabled author—wheelchair dependent, diagnosed with Ehlers-Danlos Syndrome and Autism Spectrum Disorder—I know exactly what I'm talking about. And, unfortunately, I'm also no stranger to mental health issues. In the past I have been diagnosed with a plethora of them. Most of these were misdiagnoses, because the real issue, autism, was not recognised as such, but the recurrent major depressive episodes and my predisposition to psychotic decompensation when suffering from autistic overwhelm for prolonged periods of time are no joke.
Apart from that, I also studied psychology at Utrecht University, many years ago. A study I was regretfully unable to complete due to my disabilities. I have, however, always kept up with new developments in the field as best as I could, because psychology remains one of my passions.
Summing up
If you are looking for an immersive dark fantasy tale unlike any other fantasy story, one that is heavily focused on character and features disabled protagonists, "Death and the Maiden" will be right up your alley.
This is what the book offers:
A setting unlike any other fantasy setting
Complex and relatable characters
Thoughtful exploration of existential themes
Surprising twists and turns
Darkness with glimmer of hope
Intricate worldbuilding
Smooth prose
And much more
Warning: If you are easily triggered, this might not be the right book for you. Its dark nature and the heavy themes it deals with can be upsetting.
Get your Copy of Death and the Maiden
Death and the Maiden is available from your favourite online retailer.
Can't decide yet? Download my "Guide to Death and the Maiden" first to help you make up your mind.